In March, home prices in Metro Vancouver's housing market experienced slight increases, while the number of new listings remained lower than historical averages. Despite elevated borrowing costs, home sales are performing better than expected this spring. The Real Estate Board of Greater Vancouver (REBGV) reported 2,535 residential home sales in March 2023, a 42.5% decrease from March 2022 and 28.4% below the 10-year seasonal average. The MLS® Home Price Index composite benchmark price for all residential properties in Metro Vancouver is presently $1,143,900, which is a 9.5% decrease from March 2022 and a 1.8% increase compared to February 2023.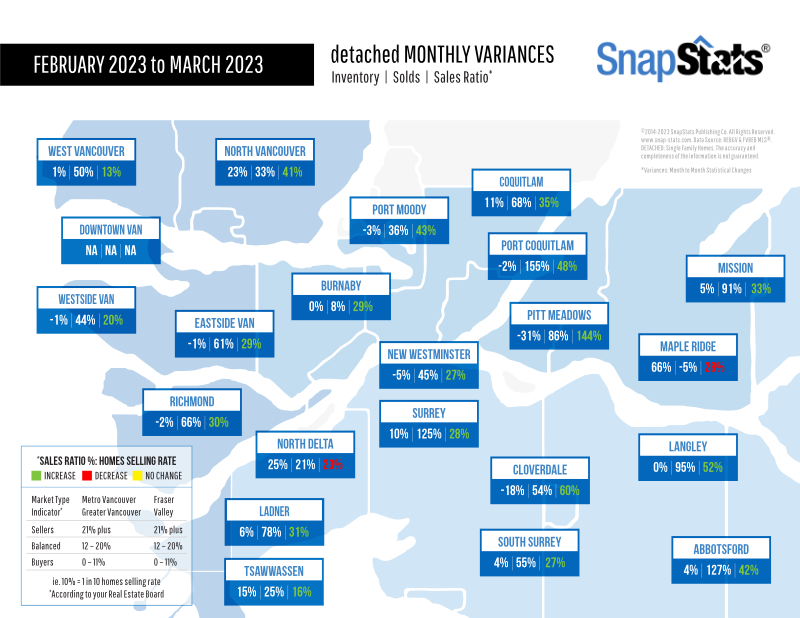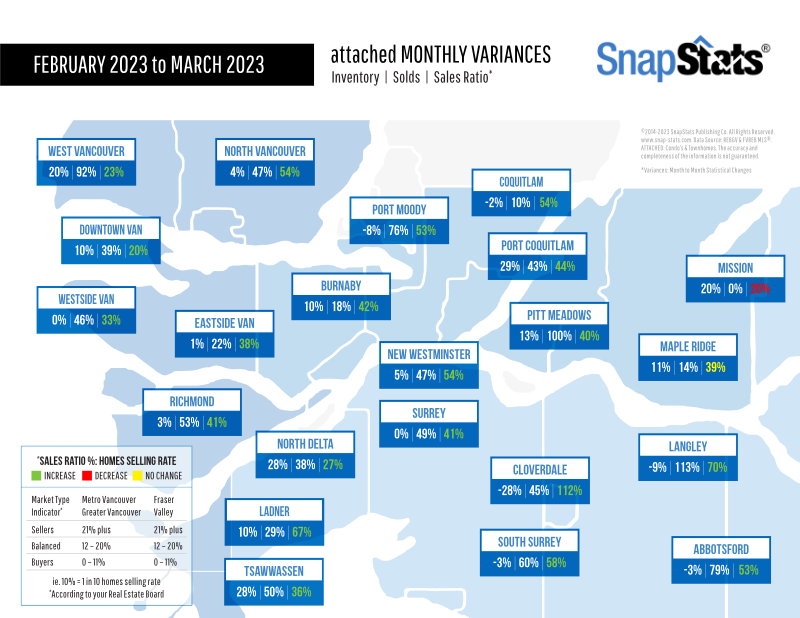 According to Andrew Lis, REBGV's Director of Economics and Data Analytics, the spring market is expected to exceed the previously forecasted modest price increase of one to two percent across all property types. This surprising increase in prices is occurring in spite of below-average sales, new listings, and elevated borrowing costs, indicating that sellers are holding out for more favorable market conditions.
In March 2023, 4,317 detached, attached, and apartment properties were newly listed for sale on the Multiple Listing Service® (MLS®) in Metro Vancouver, which is a 35.5% decrease compared to March 2022 and 22.3% below the 10-year seasonal average. The total number of homes currently listed for sale on the MLS® system in Metro Vancouver is 8,617, which is an 8.1% increase from March 2022 and 17.3% below the 10-year seasonal average.
The sales-to-active listings ratio for March 2023 across all property types is 30.7%, with ratios of 23.3% for detached homes, 36.7% for townhomes, and 34.9% for apartments. When the ratio dips below 12%, historical data suggests downward pressure on home prices, while ratios surpassing 20% for several months often result in upward pressure on prices.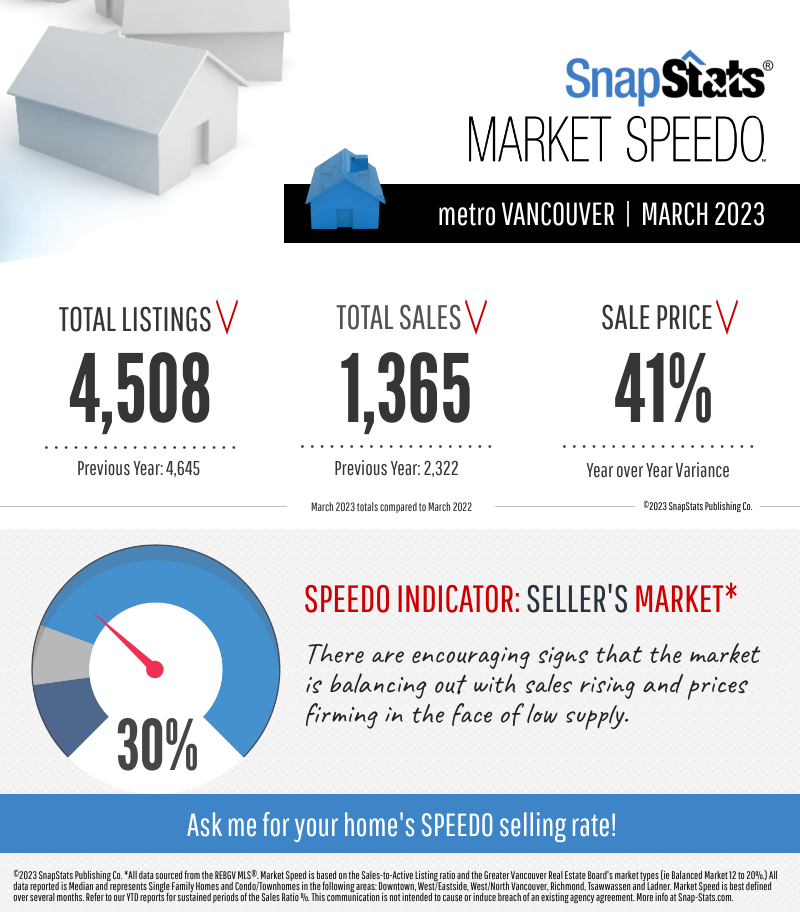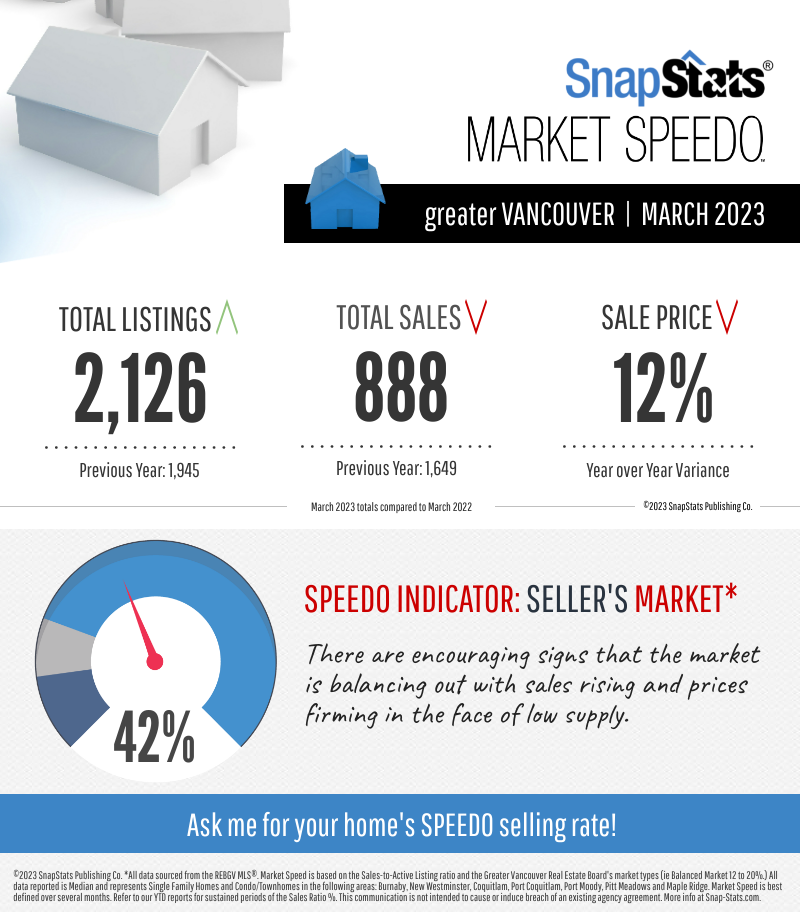 Lis explained that if home sellers remain inactive, MLS® sales figures will continue to appear lower than historical averages as we move toward summer. The number of sales in a given month is partially influenced by the number of homes that come to market that month and the inventory of unsold homes listed in previous months. With fewer homes coming onto the market, sales will remain lower than expected at this point in the year.
In March 2023, sales of detached homes totaled 734, representing a 43.6% decrease from March 2022, while sales of apartment homes were 1,311, a 43.2% decrease compared to March 2022. Attached home sales totaled 466, a 37.3% decrease from March 2022. The benchmark price for detached properties was $1,861,800, for apartment properties was $737,400, and for attached units was $1,056,400. These prices represent decreases from March 2022 but increases from February 2023.
Data from the Real Estate Board of Greater Vancouver. If you would like a more detailed market update for the area you live in, please feel free to give me a call at 604-315-1840 or felix@felixhunter.ca